The PrimoLinear™ family of linear net weighing solutions consists of high performing automatic filling machines for free and semi-free flowing products including beans, rice, poultry, snack food, confections, fresh produce, spices, coffee, pet food, frozen foods, chemicals, hardware and more.
The PrimoLinear™ is available in several models and is designed for weighments between 2 grams and 50 lb with filling rates up to 50 cycles per minute.
Its leading edge PC controls can be precisely configured to your specific product flow, speed and accuracy requirements. All designs include stainless steel open frame construction, sanitary design, tool-less removable contact parts and more.
| | | | | | | |
| --- | --- | --- | --- | --- | --- | --- |
| Model | Bucket Volume | Maximum Weight | Available Lanes | 1 Lane | 2 Lane | 4 Lane |
| V-mini | 200 ml | 200g / 7 oz | 2, 4 | x | Up to 25 | Up to 50 |
| V-5 | 5 L | 2.25 kg / 5 lbs | 1,2,3,4 | Up to 15 | Up to 25 | Up to 50 |
| V-25 | 25 L | 23 kg / 50 lbs | 1, 2 | Up to 8 | Up to 16 | x |
The PrimoLinear™ V-mini is ideal to automatically weigh and dispense ingredients and small weighments.
Very accurate, it can dispense weights as small as one gram and reads in 1/100th of gram increments.
Typical applications include nuts, dried fruits, seasonings, confections, chocolate, spices, herbs diced meats, cheese and pharmaceuticals.
Vibratory feed pans
Digital independent vibrator speed control
Adjustable electronic filtering
Foot pedal activated or automatic dump cycle
Multi-speed control
Stainless steel hopper
Single size stainless steel funnel
304 stainless steel contact parts
Full seam weld construction with ground, polished joints
Stainless steel construction

The first ever truly modular weigh filler, start with a single lane scale, and add more as your business grows with the PrimoLinear™ V5.
This machine is equipped with time saving features such as a tilting hopper that requires no change-over when running multiple applications; tool-less removable contact parts, and standardized components that reduce maintenance costs.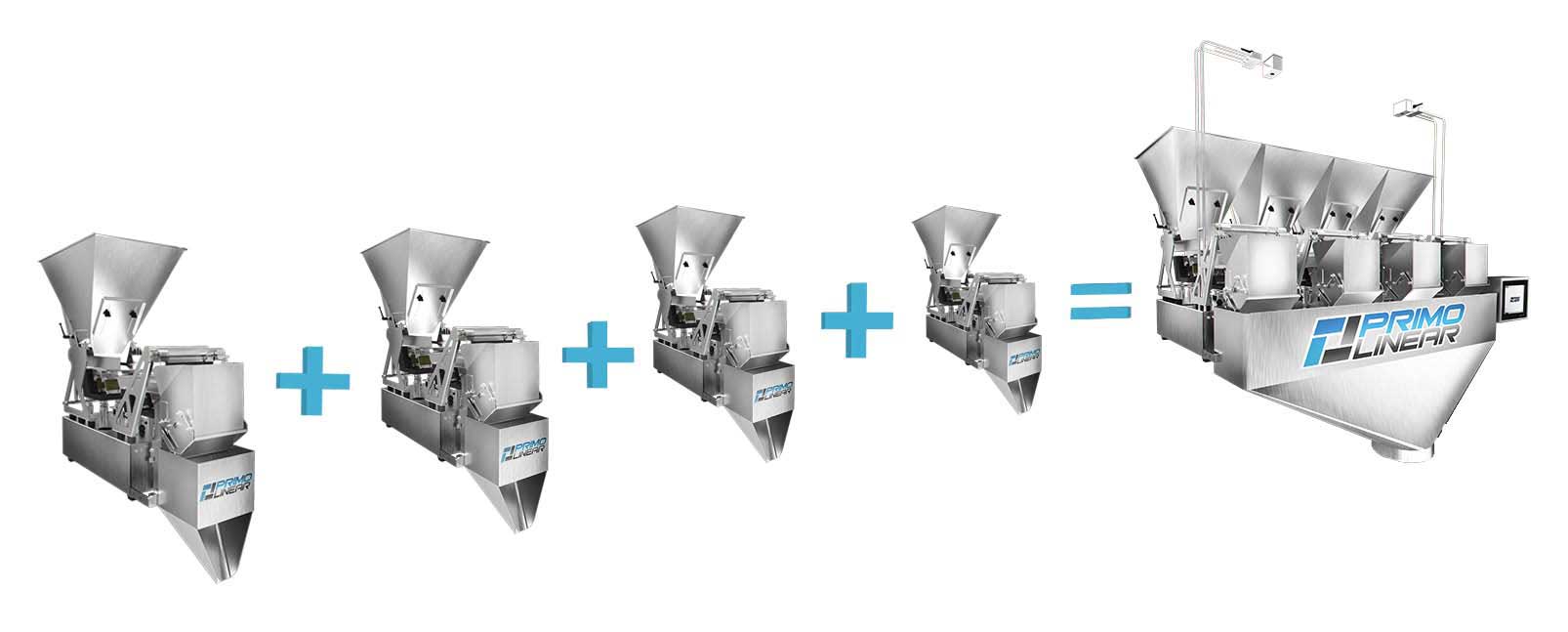 Automatic / pneumatic gate increases accuracy ensuring no additional product moves along the bulk pan. Pneumatics are not mounted to the weigh bucket; air lines do not have to be disconnected eliminating risk of contamination. Anti-vibration leveling pads increase accuracy of measured product. Independent of floor frame for additional performance and flexibility. Open frame design provides easy access to all areas of the PrimoLinear™ making sanitation quick and easy. Each lane includes 2 load cells located on both ends of the weigh bucket in order to provide more stable weight measurement and accuracy.
CONVEYORIZED WEIGH FILLER
C-Series Scales
Weigh-fill fresh and delicate products into bags, trays, boxes, bottles or any other package. Great for fresh vegetables, fruits, cheese, poultry and much more.
The C-Series scale is designed for small to bulk weights, ranging from 5 grams to 100 lbs depending on the model. These models are available in 1 to 4 lane configurations depending on the speeds you require.
Our C-Series scales include the Multi-Trix control panel. It is easily rolled on to a production
line and is mountable on all auxillary equipment.
| | | | | | |
| --- | --- | --- | --- | --- | --- |
| Model | Bucket Volume | Maximum Weight | Available Lanes | 1 Lane | 2 Lane |
| C-10 | 10L | 4kg / 10 lbs | 1,2 | Up to 10 | Up to 20 |
| C-25 | 25L | 23 kg / 50 lbs | 1,2 | Up to 8 | Up to 15 |
| IW-25 | 25L | 23 kg / 50 lbs | 1 | Up to 8 | x |