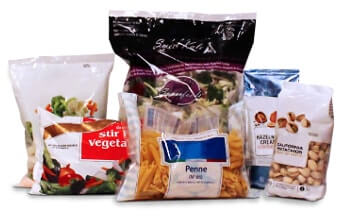 WeighPack Systems manufactures a wide range of vertical form, fill & seal (VFS or VFFS) bagging machines for all industries and products including snack food, coffee, cheese, frozen foods, candy, chocolates, confections, seafood, powders, poultry, meat and more.
How vertical form, fill and seal bagging technology works:
The process starts with a cylindrical roll of film, the vertical bagging machine will transfer film from the roll and thru the forming collar (sometimes referred to as tube or plow).
Once transferred thru the collar the film will then fold where upon the vertical seal bars will extend and seal the back of the pouch.
Once the desired pouch length is transferred it is filled with product. Once filled the horizontal seal bars will then close, seal and cut the pouch providing a finished product that includes a bag with top/bottom horizontal seals and one vertical back seal.
VerTek vertical form, fill and seal series offer great flexibility and ease of use. Models range from producing vertical pouches or bags as narrow as 1 inch wide to as much as 24 inches wide.
The XPdius high performance vertical bagger is designed for high speed bagging applications up to 100
cycles per minute.
All our models of vertical form seal machines can be upgraded to include a hole punch, tare notch, nitrogen flush, label application, ink jet date code printing and gusset attachment for stand up pouching needs.
XPDIUS™ ELITE 130
High Speed Vertical Form & Seal Machine
Engineered as the most easily serviceable vertical bagging machine on the market today, the XPdius Elite is as user friendly as it is fast.
Commonly used for applications from 50 packages per minute to 100, the XPdius Elite vertical form and seal machine can produce pouches up to 13 inches wide (330mm) and includes a heavy duty welded stainless steel frame that is built to last.
Features:
Serviceability and cleanability made easy and quick with dual (left and right) access to inside working as well as the unobstructed film path and film sealing.
Tool-less removable vacuum pull belts
Stainless steel constructed machine with anodized aluminum side plates for film unwinding system to maintain long term value.
Servo drives on both the pull belts and sealing jaws provide complete digital control to optimize speed and accuracy.
Precise control of seal jaw travel optimizes productivity and is ideal when running slim profile bags.
Open design allows for easy film threading from back to front of the machine and around the forming tube. Air shafts eliminate the need for side chucks on film shaft.
VERTEK™ 800
&

1200

Vertical Form & Seal Machine
Designed for ease of use, the VerTek 800 and 1200 series can produce pouches up to 12 inches wide in a variety of shapes and sizes including stick pack, pillow, and gusseted pouches.
Engineered with a single piece 304 stainless steel frame; the VerTek is the industries easiest bagging machine to clean and offer convenient accessibility for maintenance.
VerTek 800 for pouches up to 8 inches wide (200mm)
VerTek 1200 for pouches up to 12 inches wide (300mm)
Additional features include a 10" color touch screen; quick disconnect sealing jaws and heating elements, side access panel for easier maintenance, an integrated encoder, and more.
VERTEK™ 2400
Vertical Form Fill & Seal Machine
For the largest bagging requirements the heavy duty VerTek 2400 vertical form fill & seal machine can produce pouches up to 24 inches wide (600mm).
Its welded tubular steel construction makes the robust Vertek 2400 perfect for any bulk packaging application.
Commonly used for bulk filling applications the 2400 has been used for beer hop pellets, confections, pet food, rice, beans, flour, powders and polymers.