Beef Jerky Packaging Machine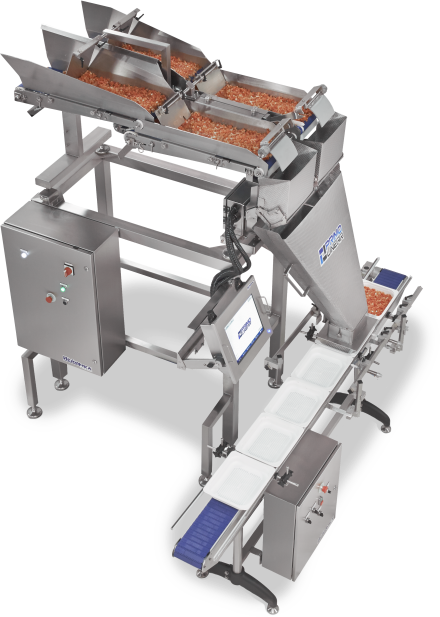 WeighPack manufactures excellent packaging machines specifically designed for bagging beef jerky. These machines come from our
pre-made pouch solutions for beef  and turkey jerky that are specifically  engineered to handle all  of your snack food  packaging needs. Our pre-made pouch packaging machines are;
Swifty Junior with speed of up to 800 bags per hour
Next model is the Swifty 1200 with speed of up to 1,800 bags per hour
Swifty 3600 with speed of up to 2,500 bags per hour
Beef Jerky Packaging Machine
Designed to automatically open, fill, and seal are all models of Swifty Bagger  automatic bag filling machines. A wide range of
pre-made laminated  pouches  in varying  styles. Including 3 sided seal  pouches, folder over  pouches,  stand  up pouches,  shaped pouches and quad pouches with zippers.
Our beef jerky packaging machine is configured and color-coordinated to your  bag specifications  to ensure ease of use for your operators. Engineered for  performance,  serviceability, cleanability, and ease of use.
First off, is our Swifty Junior that is perfect for small to medium production rates that will automatically open, fill, and seal your
beef jerky into pre-made stand-up pouches in one swift process. Our Swifty  Junior is setup for easier  operation, cleaning and service with its compact footprint and open design.
It is equipped with an adjustable bag magazine that will ensure that your products are sealed with consistency. Made with clear
Lexan doors, its bag filling components are highly accessible for cleaning and sanitation purposes. This compact and affordable
machine has standard features including automatic bag magazine, stainless steel frame, and Omron PLC and touchscreen.
Swifty Bagger 1200 and 3600
For medium to high production rates, we have the Swifty Bagger 1200 and 3600. Both cam driven automatic bagging machines are
robust in design.Built to last the toughness of today's production needs. These two beef jerky bagging machines have unique design flow
that makes their parts easily accessible.
The operator's visibility and control  are also eliminated to optimize by Blind spots. Additionally, their easy-fill  and easy-adjust conveyorized  bag  magazine  are there to make  sure consistent outputs and  attractive finished  products are  being delivered.
Lastly, our Swifty Bagger 1200 and 3600 highly promotes sanitation advantages thanks to its food safety design that ensures that
product will never touch heavy-duty mechanics.  Both packaging machines  include standard  features  such as easy-load bag feeder, photosensor for bag opening detection, and PLC touchscreen.
Finally, if you want a complete packaging solution for beef jerky, you can pair-up our PrimoCombi Multi-Head Weigher with any Swifty Bagger. Model since the PrimoCombi is designed for high-performance  applications requiring increased production rates and tight accuracy tolerances.
Beef jerky machine is also built with leading-edge mechanical. It's software features  is quite known for its user-friendliness,
data reporting,  and  sanitation  advantages.
Since being established in 1991 and having delivered packaging systems to over 30 countries, WeighPack has long emphasized providing its customer's quality built products using state of the art technology at reasonable prices.