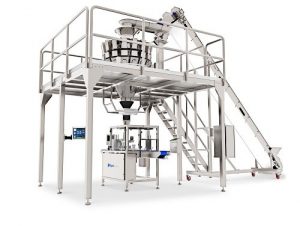 One of our packaging solutions, conveying, is comprised of two sections. The first is what we refer to as "Container Filling" and second is the "Conveyors" or "Container Conveyor". We offer 6 different types of container conveyors
Container Indexing Conveyor
Box Indexing Conveyor
SpinDexer
Incline Infeed Conveyor
Another is the Incline Bucket Conveyor
Incline Screw Conveyor
Container Indexing Conveyor includes a wide range of container filling systems for containers, cans, jugs, tubs, clam-shells, cartons, and more.
It is made of a heavy-duty stainless steel frame, has PLC controls, and a color touchscreen. Our container filling machines are commonly used for packaging confections, snack foods, powders, and spices.
Box Indexing Conveyor is engineered for bulk filling requirements. Our lineup of box filling systems are mainly used for products like confections, frozen foods, hardware, and produce.
Some of the standard features include a stainless steel frame, PLC controls, color touchscreen, no box/no fill signal, variable speed control, and adjustable sensing devices.
Container and Case
Both of our container and case indexing systems are structured to accommodate whatever our clients' needs are.
Next is the SpinDexer which is designed to increase productivity rate while performing jobs like stiff container filling.
Its basic features are variable speed infeed, traveling funnel assembly, no container/no fill sensor, and clog detection sensor. SpinDexer is easy to use and is ideal for pretzels, cheese balls, gummies, etc.
Incline Infeed Conveyor consists of a large selection of custom designed incline infeed conveyors which are utilized when transporting raw product from ground level to our weigh filling machines.
Manufactured with stainless steel, our incline conveyors can be also be upgraded with polyurethane belting.
Another is the Incline Bucket Conveyor which is built to feed a wide array of automatic filling machines. So it is well-suited to space-limited environments.
Individual feed buckets are hassle-free to clean and access.
Lastly, we have the Incline Screw Conveyor which is constructed for powder filling applications. Similar to the bucket conveyor, this is also made accessible for easy cleaning.
These models all have a round hopper, hopper vibrator and a two-piece feeder screw that is easily detached which makes for convenient cleaning.
Since being established in 1991 and having delivered packaging systems to over 30 countries, WeighPack has long emphasized providing its customer's quality built products using state of the art technology at reasonable prices.