The PrimoLinear™ family of weigh filling machines are designed to weigh a variety of products including snacks foods, confections, rice, poultry, nuts, coffee, fruits, vegetables, spices, coffee, pet food, frozen foods, chemicals, hardware and more.
The PrimoLinear™ automatic weigh filling machine is available in several models and is designed for weigh fills from as little as 1 gram to as much as 50 lbs with filling rates up to 50 cycles per minute.
Its leading edge PC controls can be precisely configured to your specific product flow, speed and accuracy requirements. All designs include stainless steel open frame construction, sanitary design, tool-less removable contact parts and more.
| | | | | | | |
| --- | --- | --- | --- | --- | --- | --- |
| Model | Bucket Volume | Maximum Weight | Available Lanes | 1 Lane | 2 Lane | 4 Lane |
| V-mini | 200 ml | 200g / 7 oz | 2, 4 | x | Up to 25 | Up to 50 |
| V-5 | 5 L | 2.25 kg / 5 lbs | 1,2,3,4 | Up to 15 | Up to 25 | Up to 50 |
| V-25 | 25 L | 23 kg / 50 lbs | 1, 2 | Up to 8 | Up to 16 | x |
The PrimoLinear™ V-mini automatic weigh filling machine is engineered to accurately dispense smallest of weights.
Incredibly compact, the V-mini can dispense weights as small as one gram and reads in 1/100th of gram increments.
Applications include weigh filling minor ingredients, food toppings, fractional packages, pharmaceuticals and more.

The PrimoLinear™ V5 is the first ever truly modular automatic weigh filling machine allows you to start with a single lane scale, and add more as your business grows.
This net weigh scale can weigh and dispense from as little as 10 grams up to 10 lbs depending on product volume.
Standard features of the V-5 weigh filler include stainless steel frame, large color touch screen, programmable recipes and production reporting, tilt-able hopper, tool-less removable contact parts and more.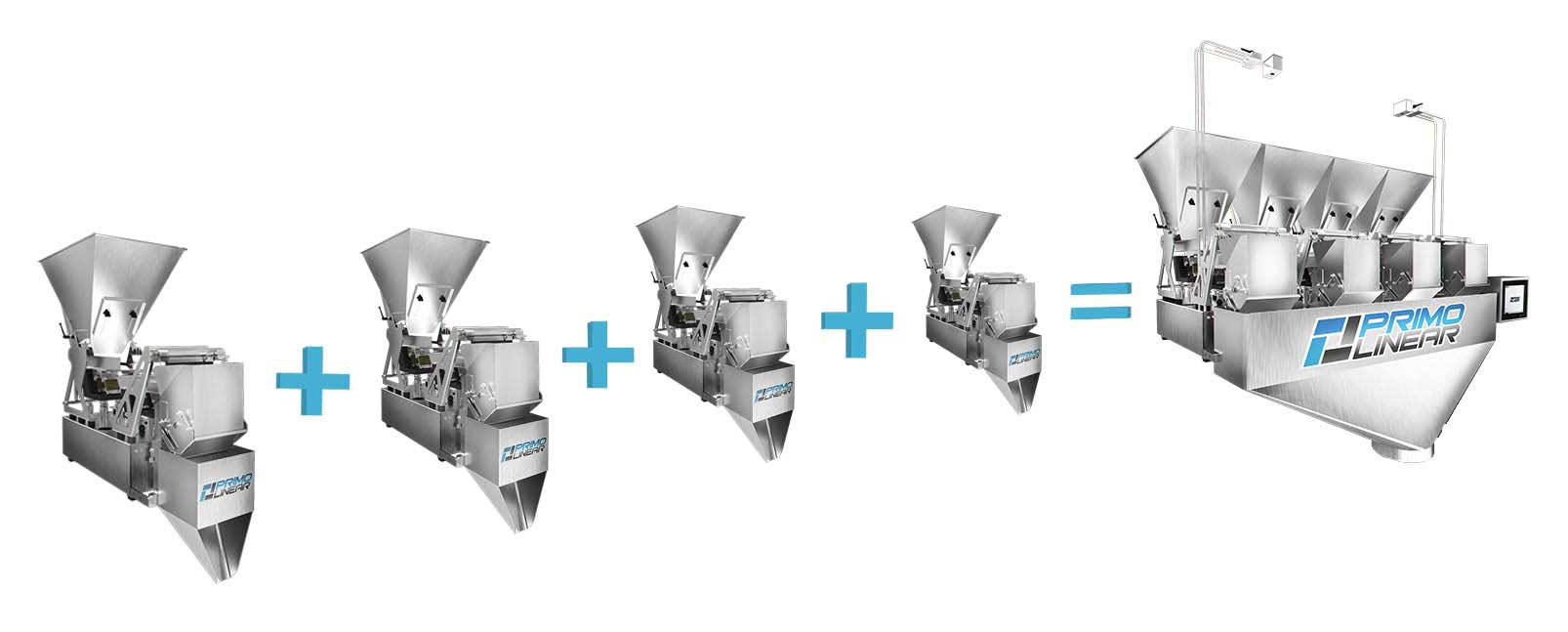 The standard in automatic bulk weigh filling applications for some of the world's largest confectionery, beer hop, nut and frozen food companies, the robust V-25 bulk automatic weighing filling machine is engineered for the toughest production requirements.
The PrimoLinear V-25 is available in both single and twin lane models and includes WeighPack's unique triple pan configuration for optimal accuracy performance.
The V-25 comes standard with a heavy duty stainless steel frame and contact parts while also including a large color display, leading edge PC controls with Windows operating system.
CONVEYORIZED WEIGH FILLER
Conveyorized Weigh Filling for Difficult to Move Products
Specifically engineered for weigh filling sticky, damp, wet and difficult to move products as well as delicate product requiring the gentle handling.
The PrimoLinear C and IW Series weigh filling machines use conveyor belts as opposed to traditional vibratory feed pans to carry product to the weighing station.
Commonly used fresh cut fruits and vegetables, shredded cheese, fresh meat, poultry and seafood, standard features include stainless steel frame, easily removable conveyor belts, large color touch screen, PC controls, production reporting and online support.
| | | | | | |
| --- | --- | --- | --- | --- | --- |
| Model | Bucket Volume | Maximum Weight | Available Lanes | 1 Lane | 2 Lane |
| C-10 | 10L | 4kg / 10 lbs | 1,2 | Up to 10 | Up to 20 |
| C-25 | 25L | 23 kg / 50 lbs | 1,2 | Up to 8 | Up to 15 |
| IW-25 | 25L | 23 kg / 50 lbs | 1 | Up to 8 | x |