Our poly bag packing machines come from our three brands of horizontal bagging machine for pre-made wicket bags.
Designed to  automatically open,  fill and seal pouches  including  laminated or polyethylene materials, stand up pouches, and pillow  pouches with a zipper closure or carry handle.
They are easy to operate and  do not require a  specific  fixed forming collar for changeovers.Hence, yielding a lesser long-term cost. These  family  of automatic bagging machines includes;
Bingo Bagger
VS Bagger
Zippy Bagger
1. Bagger Machine
First, our robust Bingo Bagger built with a robust stainless steel frame. It is capable of handling co-extruded,  laminated,  and polyethylene materials with a re-closable zipper or carry-handle. Maybe you  also  have the option  to  manually fill the products by hand or maybe make use of any type  of filling machine.
Due to  its  capability of  running  20lbs of product. This makes it perfect for multipacks, food  service,  institutional,  and bulk packaging production  needs. Its special features include auto bag width adjustment, no bag-no fill  sensing logic, trim cut  and wastebasket,  fully  adjustable  dwell time, speed, and bag change-over.
Most importantly, the  Bingo Bagger  is  the first and  only  automatic  pre-made pouch bagging machine  to have  ever existed that can automatically  vacuum or  gas flush  at  the  sealing station.
2. VS Bagger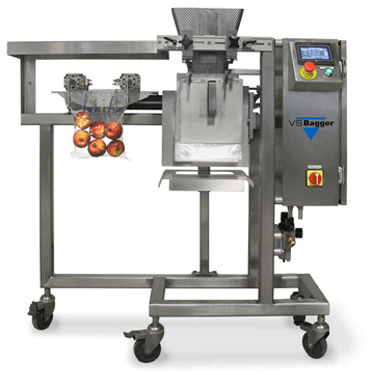 Second, the VS Bagger that is designed with a high-quality stainless steel frame. It works by automatically  positioning  a  pre-made wicket pouch.
Under the fill zone and then transferring it  to the next station  of the  packaging process  after its filling process. Furthermore, it is reliable, compact, and can  be easily  interfaced  with a  twist tie, tin tie, Kwik-Lok  or  horizontal  sealer.
The VS Bagger can also be  used to operate for any application. Hence, bags are  not  required  to be  sealed. Its features include adjustable wicket pins, right to left bag discharge no bag no fill sensor, automatic bag  opening, carriage assembly, and more.
3. Zippy Bagger 
Finally, we have the low profile Zippy Bagger designed to fill pre-made wicket pouches at rates of  up to 2,000  bags  per hour.   It automatically opens, fills  and seals both laminated and  polyethylene materials.
Therefore, its  compact design made to fit any production area, adjustable wicket pins,  simple  operation and  easily interfaced. Qualities make it  one  of  the best packaging machine for horizontal  and wicket  bagging  solutions. Furthermore, its standard  features include No bag—no fill  control, fully adjustable bag-clamping  device, four  pivoting casters  with locks,  adjustable angle  grip  fingers, etc.
Since being established in 1991 and having delivered packaging systems to over 30 countries, WeighPack has long emphasized providing its customer's quality built products using state of the art technology at reasonable prices.