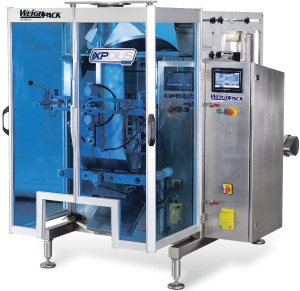 WeighPack Systems has been recognized throughout the world as a manufacturing company with a diverse selection of vertical form, fill & seal (VFS or VFFS) bagging machines.
We provide our technologies to all industries and products including (but not limited to): candy, chocolates, frozen foods, seafood, snack food, coffee, cheese, confections, poultry, powders, and more.
VFS Vertical Form Fill Seal Machine Technology
Before we introduce you to our VFS bagging machines, it would only be fitting to first give you a summary on the system behind our vertical form fill seal machine and bagging technology.
The process will kick off with a cylindrical roll of film. With the appearance of the film, the vertical bagging will now come into play which is responsible for the transfer of the film from the roll and through the forming collar.
After the successful transfer of the film thru the collar, it will now be folded while the vertical seal bars wait for its turn to extend and seal the back of the pouch. Once the desired pouch length is transferred, it has been filled with the product.
Then, with the completion of the filling step, the horizontal seal bars will close, seal, and cut the pouch. The finished product will now include a bag with top and bottom horizontal seals and a single vertical back seal.
Next up are our VFS machines
Our VFS machines include two of our brands, VerTek and XPdius.
The VerTek vertical form, fill and seal series promises to deliver outstanding flexibility and ease of use. Models can produce vertical pouches and bags from a narrow 1-inch width all the way up to an expansive 24 inches in width.
Examples of our VerTek VFS machine family are the VerTek 800 & 1200 which are designed to produce bags up to 8 and 12 inches wide, respectively.
For wider coverage and larger filling applications, we offer the VerTek 1600 and VerTek 2400 that can produce bags up to 16 and 24 inches wide, respectively.
Lastly, we have the sturdy and user-friendly XPdius Elite 1300 vertical form and seal machine that can produce 50 to 100 packages per minute with bags up to 13 inches wide.
All of our models are upgradable to include the following;  hole punch, tare notch, nitrogen flush, label application, and much more.